Learn about the origins and offerings of Campbell's Sweets Factory.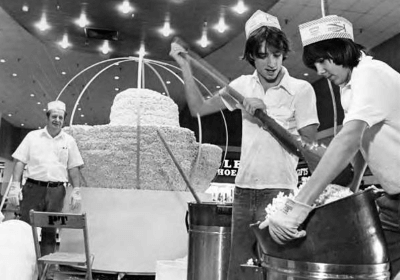 Our heritage at Campbell's Sweets begins over four decades ago in the roots of candy making excellence, beginning with Amos "Jupie" Campbell's famous Karmelkorn®. Amos started us on this sweet journey when he opened highly profitable Karmelkorn® franchise shops in four mall locations and a plaza store in the Cleveland area. Through his candy-making profession he inspired his son, Jeff Campbell, to pursue the life of a popcorn & candy-maker.
Moving forward in his fathers' legacy, Jeff and his wife, Lynn, opened our first Campbell's Popcorn Shop in Cleveland's historic West Side Market in 2004. At that time, along with two of their daughters Holly and Bethany, they launched the business with only a microwave, a few bowls, cooking utensils and some raw products. With a lot of hard work, sweat equity, integrity, and a commitment to quality, they have seen the business grow and flourish.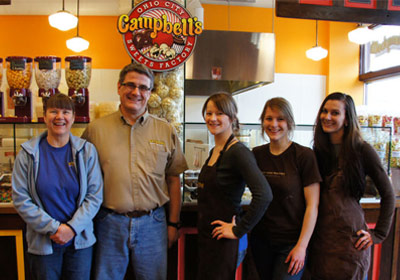 A few years later, the company was expanded by opening another stand in the West Side Market—Grandma Freda's Fresh Bake. (The stand was named after Jeff's late mother Freda, who loved to bake.) Within just a couple years, the bakery was selling more than 80,000 of our delicious "personal size" cupcakes per year. In 2012 we changed the name of the stand to Grandma Campbell's Cupcakes, and with continued growth in our popularity, we landed a spot in the 101 Best Cupcakes in America from TheDailyMeal.com in 2014. To this day we continue to sell all of our original, delicious gourmet products in both our stands at the West Side Market!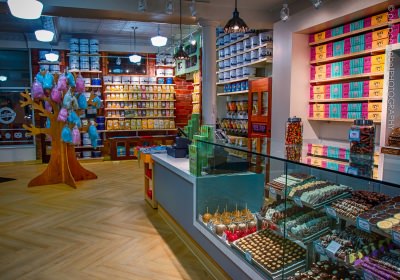 Bursting at the seams trying to keep up with customer demand (especially for our award winning Dichotomy Corn), this catapulted us into further expansion in August of 2011, when we opened the original "Campbell's Sweets Factory" in Ohio City. Just down the street from the West Side Market, we were then able to supply our customers 6 days a week as well as maintain higher levels of production for our gourmet goods.
A few years later, our business had grown to the point that we decided to open yet another "Factory" location in Lakewood, Ohio. In November of 2013, "Campbell's Sweets Factory" in Lakewood was opened, and from the very beginning, we were overwhelmed by the amount of support we received from the community from both residents and other Lakewood businesses.
As our business continues to grow, our delicious popcorn is now sold in not only our own (3) retail locations, but can also be found in several Giant Eagle stores, the Hard Rock Rocksino in Northfield, local Heinen's locations, B.A. Sweetie's candy warehouse and even CLE Hopkins International Airport (in their Hudson News stores)! In the near future, we hope to explore the opportunity to open a fun, interactive (but also efficient) production center so we can better-supply the Cleveland area with the popcorn it loves, and are also exploring new retail venues!
We're excited to be a part of Cleveland's growth and we hope to help with re-establishing a sense of hometown pride in providing a fun, energetic, smile-filled place where people can purchase hand-made, carefully-prepared, quality products at as low a price as possible—that's how "Jupie" did it, and that's how you "Keep Cleveland Sweet!"
---
Check out our first commercial / TV Spot!
---
For more on our story, check out our #KeepClevelandSweet page, which also includes some fun tips for home-popping with interactive videos!
Also, check out our page that features the Quality Ingredients we use in every one of our gourmet products!
Or, if we've tantalized your taste buds: