Campbell's Sweets – Factory Facts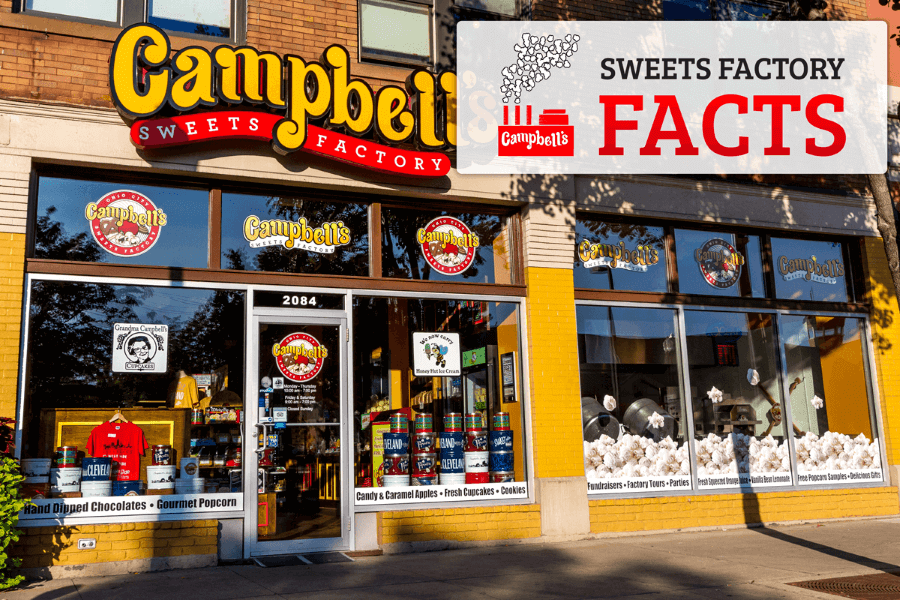 Maybe you know Campbell's, but how well do you know our Campbell's Sweets – Factory Facts? Whether you're a first-time shopper or a long-time Campbell's Sweets fan, we're sure you'll find these pieces of information below insightful as we pull back the curtain and show these behind-the-scenes facts of Campbell's company history, family background, and miscellaneous fun factoids!
While there's plenty of information on our company history on the "Our Story" page, and some other details on our "#KeepClevelandSweet" Page, these Campbell's Sweets – Factory Facts will shed even more light on our products, processes, background, and anything else you could want to know about our Cleveland-proud, family owned popcorn shop!
---
Campbell's Sweets – Factory Fact #1 : "The best, locally grown kernels"
All (yes, all) of our NON GMO popcorn seed is locally grown in the state of Ohio!
Campbell's Sweets – Factory Fact #2 : "The Caramel Corn Kid"
Owner Jeff Campbell made his first batch of Caramel Corn at the age of 11 years old! (How many people can claim that?)
Campbell's Sweets – Factory Fact #3 : "The Real Famous Amos"
Amos Campbell, Jeff's father and inspiration, had long been involved in the candy, sweets & popcorn business; from running an "Isaly's" ice cream store back in the early-to-mid 1900's, to operating several Karamelcorn® franchise shops in Cleveland-area malls. Even in his later years after "retirement" (though many would debate that Amos ever really retired), Amos would travel around doing "Taffy Pulls" at schools, senior-centers, and with anyone who appreciated the art of old-fashioned candy making! Amos did these Taffy Pulls right up until his passing in 2010.
Check out this video of one of his Taffy Pull sessions!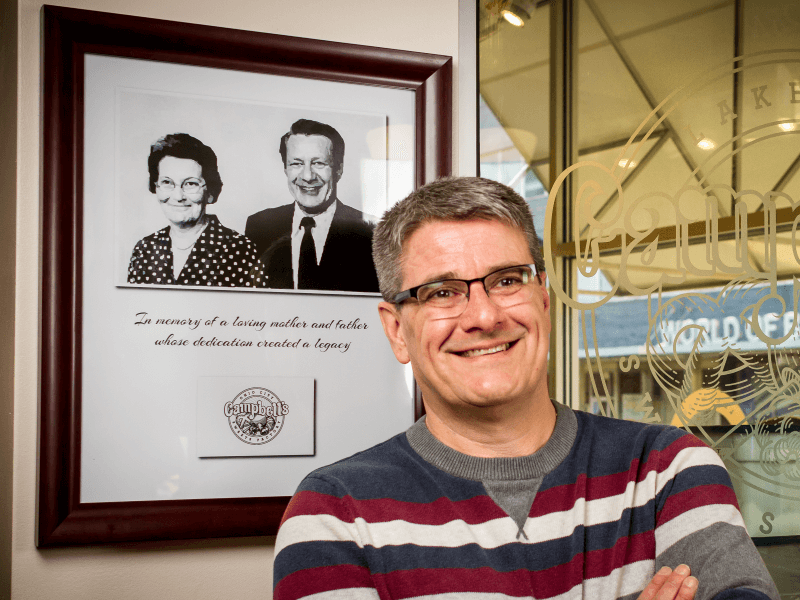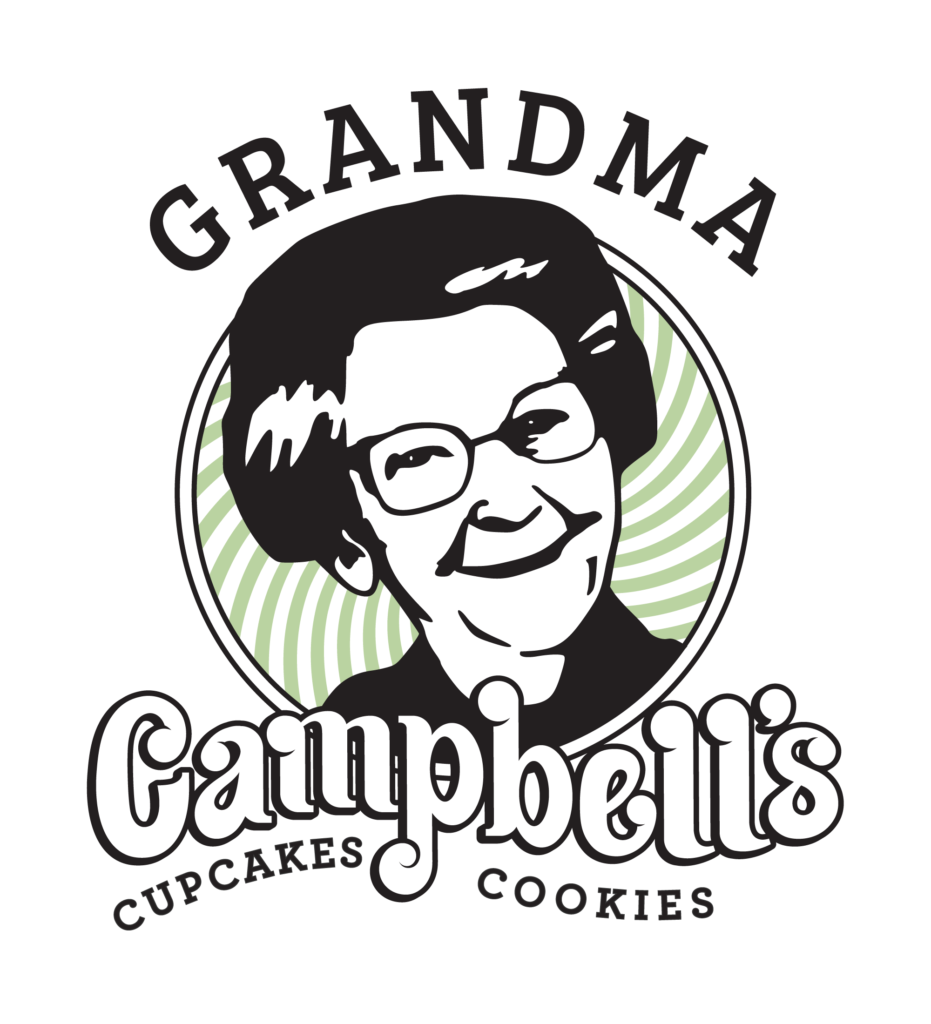 Campbell's Sweets – Factory Fact #4 : "The Face of Freda"
Grandma Campbell's classic image from our Cupcake boxes is actually based on Jeff Campbell's late mother, Freda Campbell! Freda's love for baking was just as much an inspiration as Amos' love for candy and popcorn-making, and Campbell's Sweets Factory has been a reflection of that passion for sweets!
Check out this photo of Amos and Freda together: the original inspirations behind Jeff's dream of "Campbell's Sweets Factory!"
Campbell's Sweets – Factory Fact #5 : "The Close Cupcake Kibosh"
Grandma Campbell's cupcakes almost didn't make it! When it originally opened as "Grandma Freda's Fresh Bake", our stand in the Westside Market was having a hard time gaining momentum and on the verge of closing. However, a reporter for the local paper "the Plain Dealer" tasted our Strawberry Cupcake, and raved about us in his next article! From there, things began to pickup and we eventually were recognized as one of the "Best Cupcakes in America" by theDailyMeal.com!
Campbell's Sweets – Factory Fact #6 : "Phil's Photos"
We get compliments ALL the time about our snazzy popcorn photos, and people often assume we blew thousands upon thousands of dollars on a flown-in, famous photographer to get the quality shots of our product. But lucky for us, we've got a photographer right in the family! Jeff's brother, Phil Campbell, is a professional photographer and took all of our photos of our gourmet popcorn, cupcakes, retail locations and all kinds of other products. You'll see these photos featured in our print material, on our website, and pretty much everywhere else you see the hi-quality photos of our product (like our popcorn bar, for example). Check out more about Phil's Photography on his website!
Campbell's Sweets – Factory Fact #7 : "Lovin' Our Liners"
People are often puzzled at their first encounter with the cupcake liners we use at Campbell's, as they're not the typical, accordion-sided traditional liner you often see on cupcakes; but as we emerged onto the baking-scene, we quickly saw the potential these liners offer as we produced more & more cupcakes, and people are really catching onto our love for these liners! Not only do these liners help our cupcakes bake evenly without a special cupcake-tray, but these durable, cute [and full of delicious cupcake] liners also fold-down like a plate! This keeps the cake from sticking to the liner side so you get more bang-for-your-buck and can savor every delicious bite, and also makes it easy to eat our rich cupcakes with a fork! Talk about handy!  Check out our liner-to-plate-video below!
If we've tantalized your taste buds: