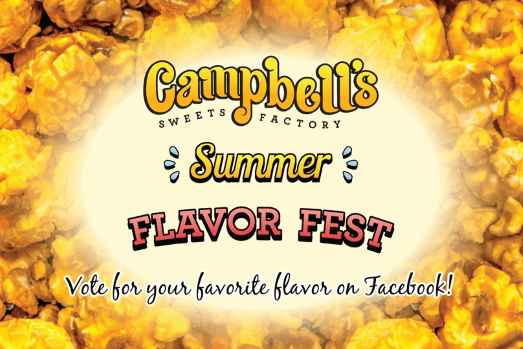 Campbell's 2017 Summer Flavor Fest
We're trying out a bunch of new Popcorn flavors and giving YOU a chance to weigh in!
It's our Summer Flavor Fest at Campbell's! We're trying out a bunch of new popcorn flavors over the Summer months, but we need YOUR help! Visit our store locations or our Facebook page to take part in our live poll on the summer flavors; we're looking for your feedback to see which flavors we'll be adding to our menu roster! Each month we'll be giving you (3) flavors to vote on, and the winner of the final vote for the (3) finalists will be added to our regular year-round store menu!
Check out these great flavors June through August, and be sure to VOTE for your favorites on our Facebook poll or by visiting us in-store!
June: "Cherry Cola Popcorn", "Butter Kettlecorn", "Mango Habanero Popcorn"
July: "Root Beer Float Popcorn","Hawaiian Pizza Popcorn", "Cherry Cheesecake Popcorn"
August: "Chocolate Covered Banana Popcorn", "Ranch Popcorn", "French Toast Popcorn"
These flavors will be available both in-store and online to purchase, so give them a taste and submit your feedback!
Flavor Fest Free Shipping!
To celebrate our Summer Flavor Fest, you can get FREE SHIPPING on our new flavors! Order a 6-pack or 12-pack box with at least one of the Flavor Fest flavors to get FREE SHIPPING on your order! Just use the code FlavorFest2017 during checkout for FREE ground shipping; valid online-only for 6-pack or 12-pack boxes! Try these flavors and be sure to give us your feedback by voting in our Facebook poll!
Head to our shop now to check them out!