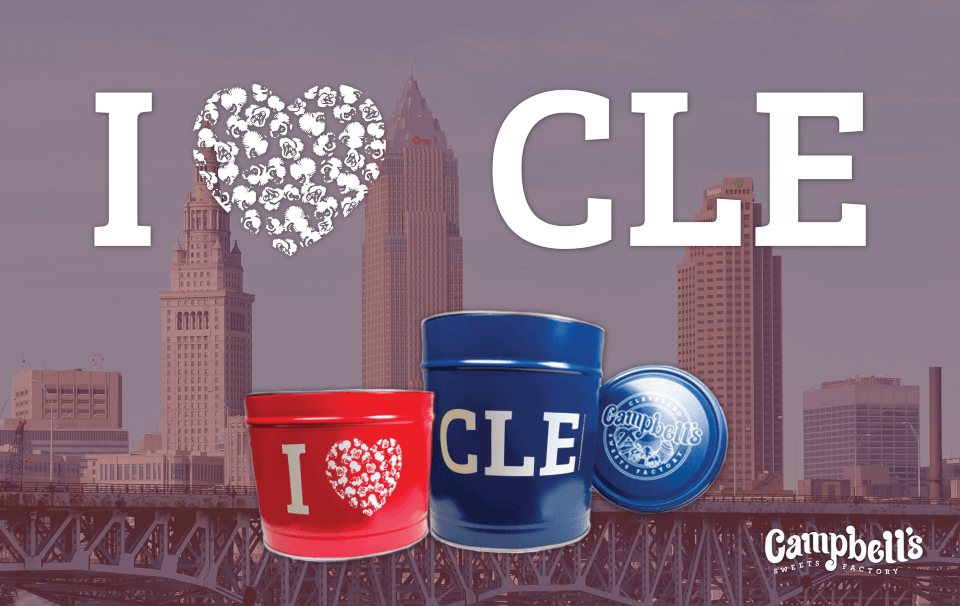 New tins are here !
Show your Heart for CLE with our new popcorn tin!
We've got a new tin in our roster: introducing our "I Heart CLE" tins! These new designer popcorn tins are available in-store and online now, in our 2 Gallon and 3½ Gallon sizes, fillable with any of our gourmet popcorn flavors! Order Cleveland's favorite popcorn in this great Cleveland-themed tin today!
Use the coupon code IHeartCLE18 for FREE SHIPPING on any order over $25 at CampbellsSweets.com! Cannot be combined with any other coupon or offer; code expires 9/30/2018!
Great Fall Gifts
Fall brings all kinds of opportunities to share some sweetness with your friends, students, teachers, co-workers and more; so look no further than Campbell's Sweets on finding the right gift options! With everything from our "Classic Campbell's Gift Basket" to a "Cleveland Baseball Gameday Tin", you're sure to find something to please anyone you might be looking to buy for. You can even custom-order our Popcorn Tins and Box Arrangements to cater the flavors to anyone's taste preferences and ship directly to them with quck & easy online ordering; how sweet is that?
Easy Fundraising
Fundraising season is in full swing! Many of our customers are raking in the profits and having great success with our Bulk Fundraisers and more recently with our Online Fundraisers; in some cases raising over $3000 for their organizations from both options! Using Sample Boxes can add even more benefit to your fundraising process, too! Check out our Fundraiser Page for more information on how to enroll in either (or both!) of our easy fundraising process featuring our gourmet popcorn!
Campbell's is in your local store!
Did you know you can find Campbell's popcorn in local shops and grocery stores, such as Heinen's, certain Giant Eagle locations, the CLE Hopkins Airport in the Hudson News stores, and even in local Target Stores? People everywhere in the Cleveland area are getting the opportunity to try Campbell's award winning popcorn for themselves! If you know someone that might be interested in carrying our gourmet popcorn in their store by purchasing them at wholesale pricing, or using gourmet popcorn for fundraising purposes, pass along this info so they can explore the sweet sales opportunities!