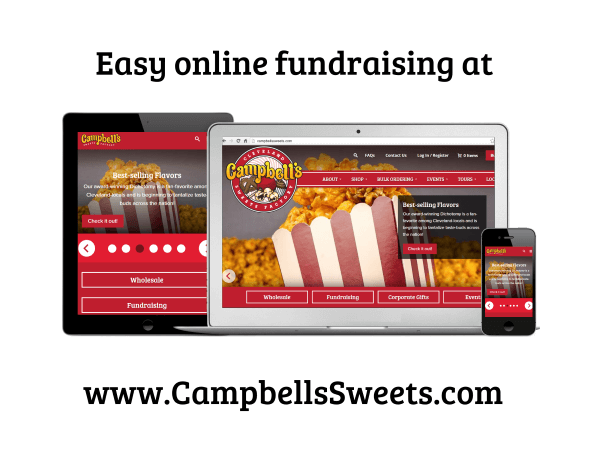 Customers are loving the Online Fundraising with our Online Fundraiser option!  And what's not to love? All you have to do is fill out the online application on our Fundraising page, then we'll get you approved and send you an Online Fundraiser Kit which includes helpful resources as well as your own FUNDRAISER COUPON CODE! When your customers use this COUPON CODE during checkout on our website, a percentage of every sale goes towards your fund! Talk about some easy Online Fundraising!
EASY TO USE
So how does it work? All you do is apply our Fundraising page, and upon approval we send you an online fundraiser COUPON CODE that you and your team will share with your customers. No tallying order sheets, no organizing product distribution or collecting payments; just share this code, and a percentage of the orders generated with your code goes towards your fund! It's that easy!
SELL FROM ANYWHERE
With the fundraisers being through the mobile-friendly web shop at www.CampbellsSweets.com, you have the potential to reach customers anywhere in the US; and, with the wide range of products available on our online store, your customers are sure to find something to enjoy! We're adding more products all the time, so the selection, choices, and opportunities to sell and send gifts will just continue to expand!
MORE BENEFITS
We send you customer-data reports for follow up (which include names & emails so you know who ordered and who didn't); there's absolutely zero product-handling on your part (no more distribution-days or orders going missing); there's a super easy sign-up process (just fill out the basic info below)—there are many reasons to utilize our ONLINE FUNDRAISER for your school, charity or organization. Ask us for more details about this Online Fundraising option that's catching everyone's attention!
Easy Online Fundraising, Gourmet Products; all at CampbellsSweets.com