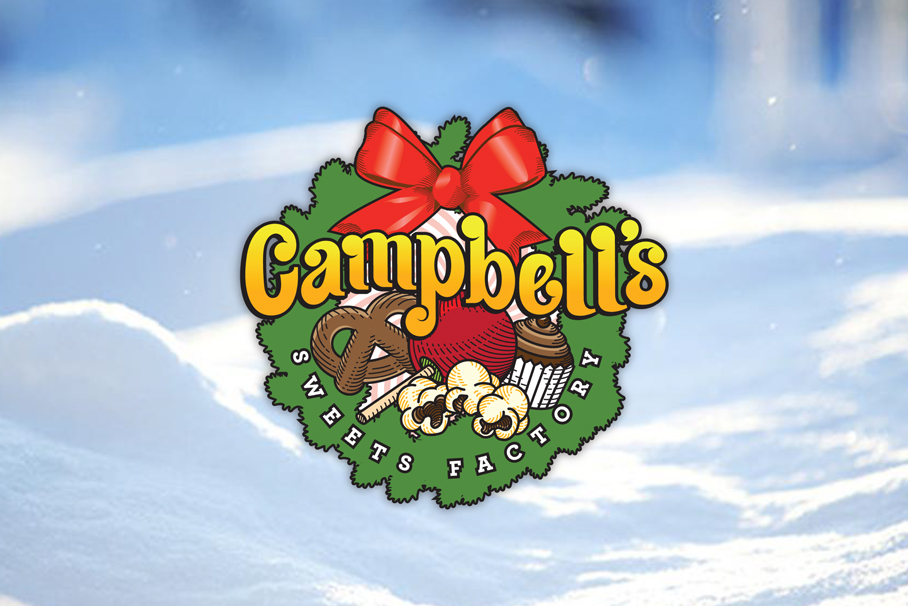 The Holidays are Here at Campbell's!
It's that time of year! We're getting ramped up for the holiday season and have a bunch of exciting products & deals this year! Whether it's our great assortment of online gifts, festive holiday popcorn flavors, unique products only available in our retail locations, or the flexibility of ordering with delivery through UberEATS, we've got you covered this holiday season!
Cyber Monday & Small Business Saturday
Cyber Monday 11/26: We've got a great deal for your online shopping during Cyber Monday. If you spend $25 or more for your online order, it can qualify for free shipping! Just use the code CyberMonday25 during checkout at our online shop on Cyber Monday! Purchase great gifts, gourmet popcorn tins, or one of our customizable box arrangements; anything can be ordered as long as you have $25 or more in your cart! This code expires Tuesday, November 27th, so get all your shopping done on Monday! (Don't want your order to ship right away? Just let us know in the order notes during checkout that you'd like to delay the shipment; it's that easy!)
Black Friday 11/23 through 11/24: At our retail locations, we're offering a special deal where if you buy $50 in gift cards, you get a $10 gift card absolutely free! The $50 in cards can be separated into multiple denominations (for example, you can get five $10 gift cards), but as long as your gift card purchase totals $50, the $10 gift card is yours—on us!
Small Business Saturday 11/24 only: In addition to our gift card deal from Black Friday being carried over through Saturday, we're also offering $2 any $10 purchase in our retail stores! Also, you can enter to win a Christmas Gift basket; there's no reason NOT to stop by at Campbell's for your holiday shopping! (Limit one $2 deal per customer)
Get your holiday shopping done this weekend with Campbell's Sweets!
Large Gift Orders
Campbell's gourmet gifts are great for any occasion, and now with our Corporate Gifts Online Ordering page, placing your large order is easier than ever! Whether it's 20 or 200 gifts, Campbell's can assist you: we specialize in corporate orders of all sizes and can handle just about any volume of products to meet your holiday & general-gifting needs! Discounts are available for large-quantity orders, and also for ordering ahead of the holiday rush!
In-Store Fun

Each one of our Campbell's Retail locations will be featuring all kinds of great goodies & gifts for the holidays! We'll have a huge selection of delicious chocolate sweets, fresh baked cupcakes in all kinds of classic flavors and limited-available holiday items like our signature popcorn snowmen, which will be in production shortly! Many of these items will have limited availability, so drop by soon to grab them before they're gone!
To check out any specific flavors popping up in our cases or be kept in the loop on promos, contests & deals, be sure to stay tuned into our social media!
View our holiday hours right here on our SWEET blog!
Campbell's: Delivered!
Get Campbell's Sweets delivered right to your door, including some items that aren't available on our website like our delicious cupcakes, truffles and caramel apples! Plus, stay tuned for any holiday-specific items, like custom baskets, gifts and more!
Go to UberEATS.com/Cleveland, type in your location, and look for a "Campbell's" location near you to view our available items! Or, just use the apps for both iPhone and Android users!