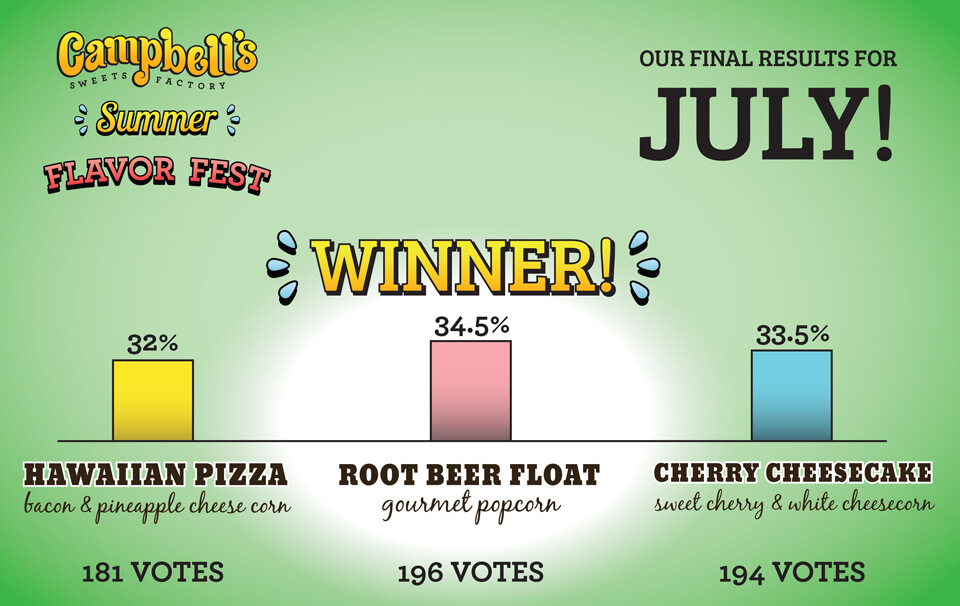 The votes are tallied, and we have another finalist for our Flavor Fest!
It was a close race, but our winner for July was: Root Beer Float! It won by a mere two votes; so, be assured that every vote counts in this Flavor Fest voting! Everyone surely enjoyed this delicious candy-coated flavor made with pure cane sugar, sweet vanilla cream and classic root beer flavor! So Root Beer Float joins Butter Kettlecorn as two out of our three finalists! There's one round left of voting for the finalists through August, then the (3) winners will go head-to-head in the final showdown to see which flavor gets added to our menu! Be sure to vote in our Facebook Poll for the August flavors!
June's winner: "Butter Kettlecorn"
July's winner: "Root Beer Float"
August: "Chocolate Covered Banana Popcorn", "Ranch Popcorn", "French Toast Popcorn"
These flavors will be available both in-store and online to purchase, so give them a taste and submit your feedback! Head to our shop now to check them out!